Towing Company in Baker City, OR
Superior Towing Inc. is proud to have provided steadfast towing and roadside assistance to motorists and residents of Baker City, OR and the surrounding area cities and towns since 1997. As a local, family-owned and -operated towing company, we pride ourselves on prompt service, superior customer satisfaction and above all, a job well done.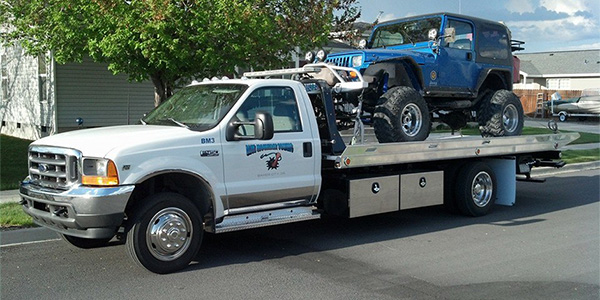 Convenient 24/7 Tow Truck Assistance
Auto accidents are never convenient and often, they leave you on the side of the road while you wait for a tow truck. Worse even is when there are other vehicles involved or you're dealing with something major, like a semi-truck on its side! For all of these unsavory situations and more, there's Superior Towing Inc. When you choose us among towing companies in Baker City, OR, you won't wait long for a tow truck in Baker City, Wingville, Pleasant Valley, or Haines, OR, and when our professionals do arrive on site, you can bet they're ready to handle the situation in a capacity that's encompassing and seamless. From removing the damaged vehicle, to air cushion recovery for displaced vehicles, to traffic control management and more, our tow truck company is here to see the situation through to its end.
No matter if you have a boat, bus, coach, motor home, motorcycle, 5th wheel trailer, car, semi-truck, or any other vehicle, look no further than Superior Towing Inc. for towing in Baker City, OR! We are also renowned for thorough accident cleanup and salvaging. We assist in all aspects of cleanup and have skid steers and forklifts for property restoration, as well as multiple refrigerated trailers and dry vans for cargo storage. Take a look at just a few more reasons so many people continue to trust us among local towing companies for towing, roadside help, and salvage services throughout Baker County. Our towing company and roadside services are available 24-hours a day, 7 days a week. Contact us today!
We're pleased to accept EFS and COMChecks.
We can tow just about anything, including 5th wheel trailers, semi trucks, busses, motor homes and all cars, trucks and sedans!
We're a WreckMaster certified tow truck company.
We're pleased to be a member of the Baker County Chamber of Commerce.
---
Tow truck company serving drivers in:
Baker County, OR
Baker City, OR
Keating, OR
Durkee, OR
Weatherby, OR
Dixie, OR
Lime, OR
Bridgeport, OR
Hereford, OR
Copperfield, OR
Homestead, OR
McEwen, OR
Little Alps, OR
Cornucopia, OR
Carson, OR
Newbridge, OR
Greenhorn, OR
Haines, OR
Halfway, OR
Huntington, OR
Richland, OR
Sumpter, OR
Unity, OR